Hi, I make awesome
stuff for the www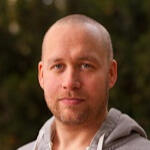 I mix a little .NET, a little React, and a little Angular into a bowl made of the cloud (95% Azure / 5% AWS). A quick stir with a stick dipped in databases and it tastes ohhhh so good. Bake for 40 minutes in a Kubernetes oven and [insert chef's kiss] voila!

I'm working on a React course to be released in the near future. Add your email below to get notified when it's ready!
About
20 years of experience as a senior IT trainer and consultant.
Taught for large enterprises on infrastructure, application development, and architecture topics.
Many years consulting and training in financial services industry in New York City and across the globe.
Specializing in Microsoft Azure Cloud technologies and application development (.NET, React and Angular).
If you say POWER I say SHELL. Another technology I can navigate around. "PowerShell automation is the key to domination" is a common saying I just made up.
You need a SQL query? I can write one.
Co-author of "Microsoft SharePoint 2010 PerformancePoint Services Unleashed" - ISBN-10: 0672330946
(This book is older than Instagram... Do I take it off? Or keep?)